Keaps automated parking system is designed to be a reliable, space saving solution. The advantages of this newly redeveloped system lie in the reduced installation dimensions, while the vehicle dimensions remain unchanged.
In the future there will be more need for parking and the car will continue to be an extension of the living environment. The Keaps parking garage has more parking spaces per square meter with a total footprint of 180 square meters. Keaps Modular system can keep up to 102 cars. Means eight cars per layer and six cars on ground floor with one entrance and one exit.
Because the parking garage is fully modular with a flexible construction, the parking garage can easily be expanded in width. Other systems consist of a lot of electronics. We do with as little as possible, because it makes it much more reliable.
Fascade cladding
The outside of the parking garage can be covered with plants and solar panels on the outside and thus fits perfectly into the future street scene.
Keaps automated parking system gives the consumer a safe feeling.
As soon as you give the order to put the car in the parking garage, the doors close and no one can reach it. This not only serves safety, the cars no longer have to be driven through the parking garage. And that makes the system environmentally friendly.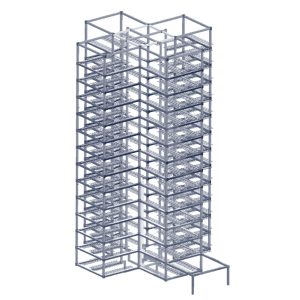 Based on a parking lot of 228 cars.*
Our system ensures a 100 kg CO2 reduction per car.
Hydrocarbons 69.9 KG per year
CO 0.5 KG per year
NOX 36.6 KG per year
CO2 9382.2 KG per year
Fuel LTR 3994.6 per year
Tires dust particles 632.5 KG per year
Brake dust particles 63.2 KG per year
Keaps basic parking system provides 102 parking spots. This construction consists of five layers. One layer can store eight cars. The ground floor contains six parking spots and one entrance and one exit.
Width: 18 meter
Length: 18 meter
Height: Approx. 31 meter
Each parking spot platform is approx.
5,5 meter length
2,70 meter width
2,40 meter height
Automated parking
benefits
Other systems consist of a lot of electronics. We do with as little as possible, because it makes it much more reliable.
Compared to other models in the market, we decided to build upward to save a lot of space and store more cars with less space.
Because the system is fully automatic there is no chance of other cars causing damage to your cars. For example opening a door or backing up (parking accidents).